SPA MENU
Tucked away amid lush gardens and olive groves lies an enchanting oasis of self-discovery, wellness, fitness, and relaxation—The Spa at Rancho Valencia. Celebrating the revitalizing benefits of herbs, flowers, oils, and minerals that make up the world's canvas, The Spa offers tempting choices to soothe the spirit, rejuvenate the body and enrich the mind.
Every detail at our Forbes 5-Star rated San Diego spa resort is meticulously tailored to create the ultimate destination for wellness and tranquility, starting with the basics like freshly-made organic fruit and vegetable juices, to the best massage in San Diego, the Serenity Yoga Pavilion, Pilates studio, advanced exercise programs, and fitness sessions hosted by top-tier wellness professionals.
Rancho Valencia invites you to experience our newly-renovated Spa, unveiled on June 1st, 2021. The new, enhanced 5-star Spa Rancho Valencia Spa (as if it could get any better!) includes an expanded state-of-the-art fitness center, brand new Salon with blow-dry, manicure and pedicure services, expanded retail area and expanded men's and women's locker rooms, lounges, and relaxation area. We are thrilled to welcome you back to our San Diego spa resort!
HOURS OF OPERATION
Spa and Spa Pool: 7 am – 8 pm

Fitness Center: 6 am – 8 pm

Spa Appointments 7:30 am – 6:45pm
Salon 9:00 am – 6:00 pm (Closed Sunday)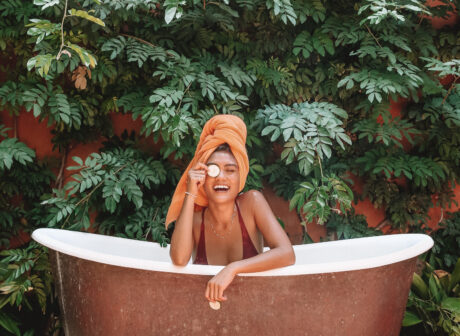 Stay & Play Spa
Immerse yourself in the lush and airy, luxurious Forbes 5-star rated Spa at Rancho Valencia. Enjoy your treatments and experience the expanded relaxation and lounge areas, dedicated facial rooms with beautifully-tiled outdoor showers, and gorgeous landscaping of the impossibly romantic Spa at Rancho Valencia.
Book Now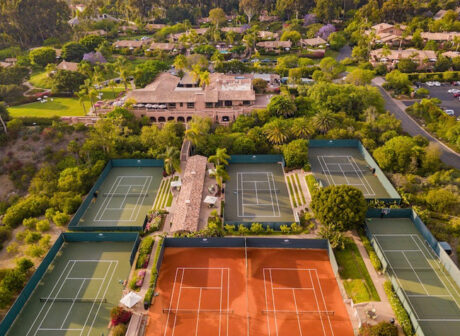 Stay & Play Tennis
Our Stay & Play Tennis package is designed for tennis enthusiasts and offers the best in customized instruction, plus the perfect reprieve in the comfort of a luxurious newly designed suite.
Book Now
Stay & Play Golf
Take to the area's most prestigious fairways with our Stay & Play Golf package. With complimentary use of brand new men's and women's Callaway golf clubs, leave your clubs at home and allow our golf concierge to book your tee time. Enjoy perfect San Diego weather on the greens and fairways of some of the most sought-after golf courses in the region.
Book Now